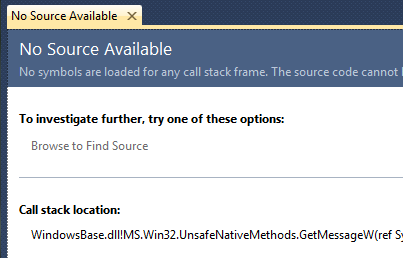 This small extension will prevent the tool window with title « No Source Available » from appearing in Visual Studio, and preserve the focus on the currently active tab.
Alas, along with brilliant features such as IntelliTrace, Visual Studio otherwise displays a tab stating that it cannot find source code where to step into. This is obvious when simply pausing an idle application, therefore it forces the developer to close this window before getting back to the code he wants to modify, which may be a productivity killer.
Finding absolutely no solution/workaround despite an exhaustive digging created an immense frustration and at the same time a good reason to play with the Visual Studio Extensibility framework and accomplish the job myself :). The result is much fitter than what I could have done with AutoIT (probably an always running background loop checking for specific IDE windows through graphical pattern matching).
Let's hope this extension will be short-term lived as the Visual Studio development team adds an option to better control this behavior!
This extension should work with all locales of Visual Studio.
Feature requests are welcome here. Official GitHub repository here. Contributions are welcome.
You can install the extension from within Visual Studio directly or download the VSIX installable package from the Visual Studio Marketplace.

18 commentaires